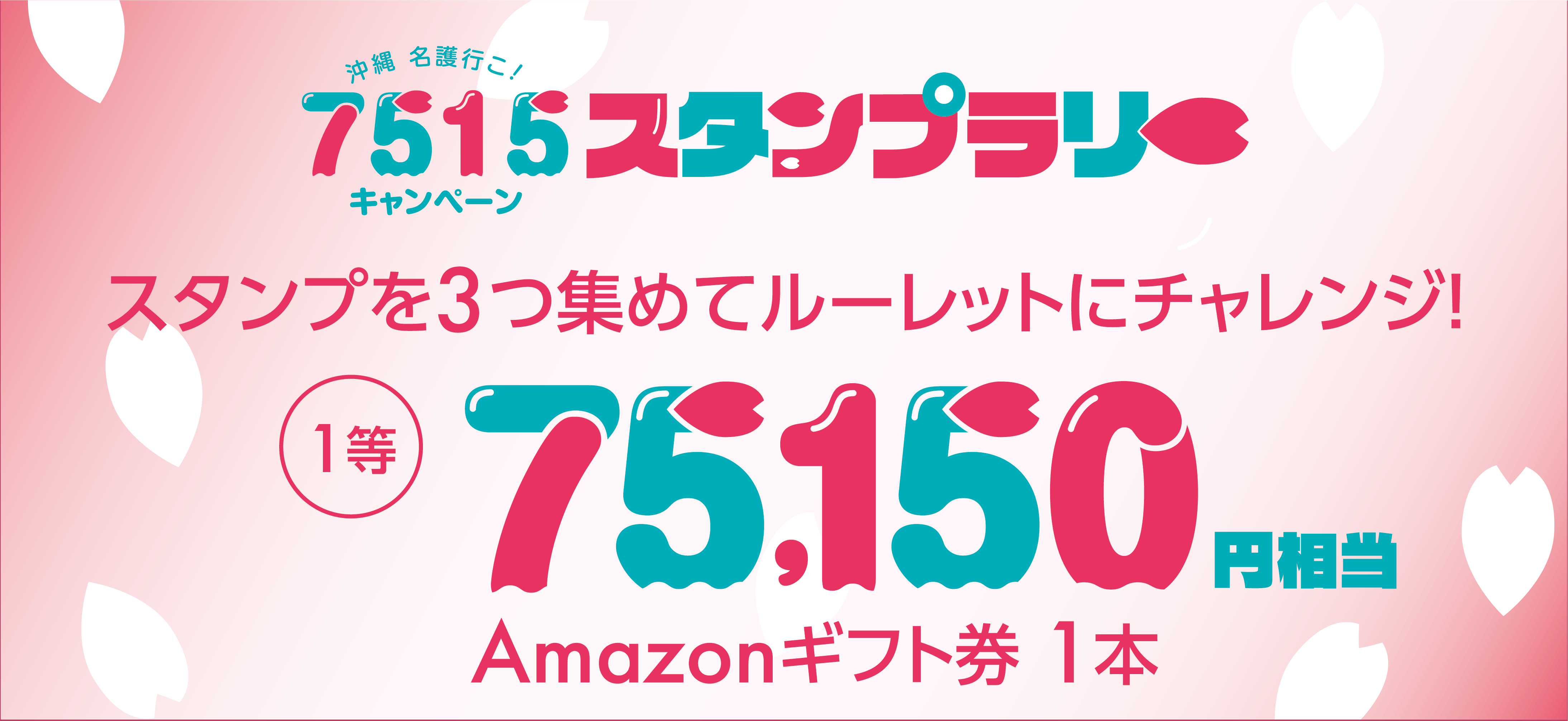 INFORMATION
Let's go to Nago, Okinawa! 7515 Stamp Rally
Collect stamps around Nago and win digital gifts worth 75,150 yen!
Promotion Period
2/OCT/2023(Mon.) - 10/DEC/2023(SUN)
Promotion Process
1. Shop at facilities participating in the Digital Stamp Rally
2. Scan the QR code on your smartphone at participating facilities and receive one stamp for the Digital Stamp Rally (Only once per store)
3. If you collect the specified number of digital stamps (3, 6, 9), you will get a chance to win a gacha challenge lottery where you can win a digital gift worth 75,150 yen!
4. Win the gacha challenge lottery at Naha Airport (JTB Naha Airport Office) and win gorgeous prizes!
Promotion Gift
Stamprally Challenge Prize
Right to apply for Gacha Challenge

(2nd chance) Right to apply for Gacha Challenge

(3rd chance) Right to apply for Gacha Challenge
Caution
1. This event is only available to those who have purchased the "7515 Campaign" travel coupon. Therefore, even if someone who is not eligible participates in this project and wins, the winning will be invalidated, so please be careful.
2. Only one stamp can be affixed for each facility.
3. Gacha Challenge lottery rights are limited to a maximum of 3 times per person.
How to Collect Your Prize
About Exchanging Your Prize
1. If you collect 3, 6, or 9 digital stamps, you can win a lottery ticket.
2. At Naha Airport (JTB Naha Airport Office), please show the prize redemption screen on your smartphone to the staff. After confirmation by the staff, you can participate in the g
Merchandise Counter
JTB Okinawa Naha Airport Office (Naha Airport Domestic Terminal 1st floor) *Business hours 10:00-19:00
Please check the following page for prize details.
▶︎Benefits Page
if statamp rally does not work properly
If the system does not work properly, such as the acquired stamps and lottery history disappearing, please check the following settings.
▶︎Precautions Page
Data backup and restoration
How to backup
Go to the following page and bookmark it.
▶︎Backup Page
How to restoration
Tap the Restore button on the Bookmarks page